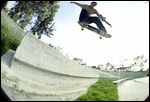 Ollie
With both your feet on the board, lift up the heel of your back foot so your weight is on the ball of your foot and your toes. That part of your foot should be centered at the tip of the tail. Your front foot should be about 2/3 of the way up the board, angled slightly forward. Your toes should be near the toe edge of the board and, depending on shoe size, your heel may be hanging off of the heel edge. Smack the tail to the ground with your back foot and jump off of that back foot--getting the timing down is probably the hardest part. As you jump, your front foot slides up to your nose, pulling the board into the air. At the peak of your ollie, level out your board, then wait for the landing. Always land with your knees bent. When ollieing a gap, try not to think about clearing it; instead, think about popping a nice big ollie. The hardest part about ollieing most gaps is getting in the committed mindset. When you're in the air, spot your landing and keep those shoes on that grip tape until you roll away.
180 Ollie
Needless to say, it is necessary to learn to ollie first. The frontside 180 ollie is basically an ollie with a 180 turn in mid-air. Setting up for it is essentially the same as for an ollie, but as you crouch down for the "pop"", wind up your body a little by turning your torso backside (your leading hand should "reach" across your stomach). As you hop into the ollie, unwind by twisting your torso frontside. By the time your tail smacks the ground, your torso should be "ahead" of your legs; when the board lifts into the air, your body is already turning frontside, pulling your legs along. Your legs, in turn, are pulling your feet along, which are guiding your board around. Voila! You're on your way. The board should remain directly beneath you the entire time. When you've turned all the way around and the board is lined up and drifting fakie, extend your legs and land. You will now be rolling backwards. It may seem strange to land this way, but get used to it. You will soon learn many tricks that will require landing backwards or switch-stance. One way to learn to land backwards is to try a rolling 180 body varial (jump and turn your body 180 degrees, landing on the board switch-stance). You will find that the frontside 180 ollie is a good set-up trick and that many variations are possible.
Lip slides
In order to execute the very popular and attractive lipslide, learn boardslides and frontside 180s first. Approach the obstacle as you would for a 50-50. Pop your ollie and start turning yourself (and your board) frontside, making sure your back truck is high enough to go over the obstacle. Once you are hovering above the object, perpendicular to it, land in the boardslide position. From here on out, it's just like the ol' boardslide; just cruise along that rail or ledge as long as you can and come off like you would a boardslide. No, wait, scratch that. If you're bustin' this lipslide on a ledge, then your back wheels should be sliding along on top of the ledge. When it comes time to come off the ledge, put pressure on your tail so that all your weight is on your back two wheels. Then turn your board forward and roll off of the end of the ledge. There, that's better.